About Hong Kong
A dynamic and cosmopolitan city, Hong Kong is a unique blend of East and West, featuring Chinese traditions, British colonial heritage, high-tech modernity and Cantonese gusto. Hong Kong offers a diverse and exciting travel experience — spectacular skyline, great shopping, dining, theme parks, countryside pursuits, arts, culture and sports events.
Hong Kong's economy is characterised by free trade, low taxation and minimum government intervention. It is the world's 6th largest trading economy, with the mainland of China as its most significant trading partner. Hong Kong is also a major service economy, with particularly strong links to mainland China and the rest of the Asia-Pacific region.
Hong Kong became a Special Administrative Region (SAR) of the People's Republic of China on July 1, 1997, after a century and a half of British rule. Under the "One Country, Two Systems" principle enshrined in Hong Kong's constitutional document, the Basic Law, the SAR enjoys a high degree of autonomy, including executive, legislative and judicial powers. This system enables Hong Kong to retain its legal system based on the common law, its market economy and capitalist way of life. Hong Kong also participates in such international fora as the World Trade Organization and the Asia-Pacific Economic Cooperation in its own right.
The Chief Executive is the head of the SAR. He is advised by the Executive Council in policy making and assisted by politically appointed Principal Officials in overseeing the administration of various policy areas.
The Legislative Council enacts laws, monitors the work of the government, examines and approves government budgets, taxation and public expenditure. At the local level, 18 District Councils advise on the implementation of policies in their respective districts.
The SAR's legal system is firmly based on the rule of law and the independence of the Judiciary. The Court of Final Appeal is the highest appellate court and is headed by the Chief Justice.
Location
Hong Kong's position, at the south-eastern tip of China and in the heart of rapidly developing East Asia, gives it economic and strategic importance out of proportion to its small territory. You can reach all key markets in Asia within 4 hours flight time, and half the world's population within 5 hours flight time.
Covering about 1,100 square kilometres, the territory comprises Hong Kong Island, Kowloon Peninsula, and the New Territories, including 261 outlying islands. About 40 percent of the territory of Hong Kong has been designated as country parks and special areas, with developed areas making up about 25 per cent.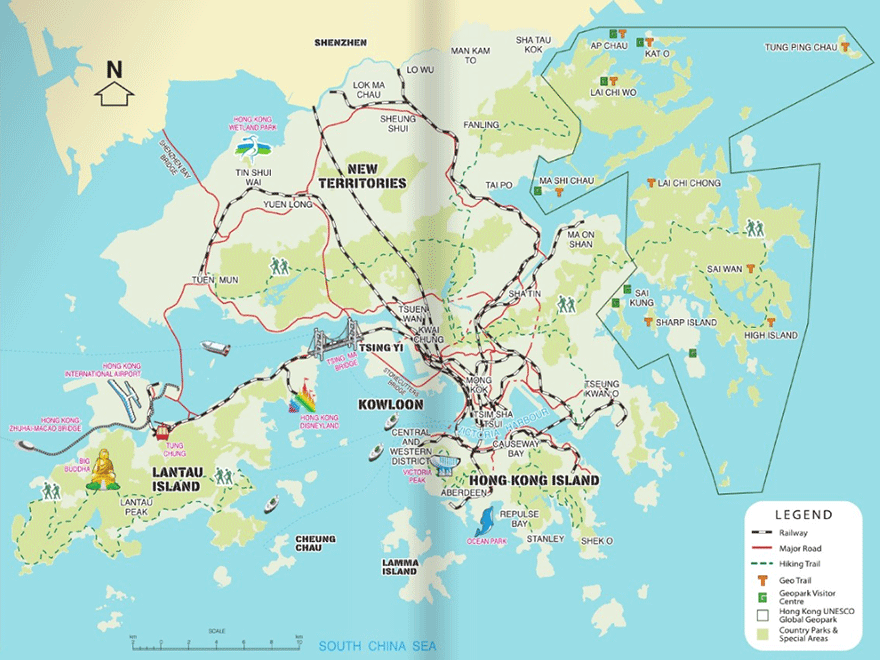 Population
Hong Kong's population was approximately 7.41 million in mid-2021.
Language
Chinese and English are both official languages. English is widely used within the Government and also by the legal, professional and business sectors. There is no shortage of well-educated, competent bilingual or even trilingual professionals who speak English, Cantonese and Putonghua — a vital requirement for any enterprise doing business in Hong Kong or with the Mainland.
Climate
Hong Kong's climate is sub-tropical, tending towards temperate for nearly half the year. Temperatures can drop below 10 degrees Celsius in winter and often exceed 31 degrees Celsius in summer.
Time difference with Japan
Hong Kong is GMT + 8, which is one hour behind Japan.
Last Updated: February 22, 2023