Webinar: "Clusters of innovation: New technologies and smart economies in Asia"
Event Outline
| | |
| --- | --- |
| Date : | 18 August 2021 (Wednesday) |
| Organiser : | The Economist Corporate Network |
| Sponsor : | Hong Kong Economic and Trade Office, the Government of the Hong Kong Special Administrative Region |
| Language : | English & Korean |
The Secretary for Innovation and Technology, Mr Alfred Sit, on 18 August updated the business community in Korea on Hong Kong's latest developments and opportunities in innovation and technology (I&T) at a webinar entitled "Clusters of innovation: New technologies and smart economies in Asia"
Mr Sit gave a brief account of Hong Kong's vibrant I&T development and the Government's investment of over US$14 billion in the past four years to enhance the I&T ecosystem.
"Our efforts have received high acclaim internationally. Hong Kong rose from the eighth to fifth in the digital competitiveness ranking as announced by the Institute for Management Development in December 2020. Moreover, the Digital Intelligence Index report jointly released by Mastercard and the Fletcher School at Tufts University of the United States found that Hong Kong together with Korea and 11 other economies were the 13 'stand-out' markets which were considered leaders in driving innovation," Mr Sit said.
Highlighting the vast opportunities brought about by Hong Kong's strategic position in the Guangdong-Hong Kong-Macao Greater Bay Area and the support of the Central People's Government for Hong Kong to develop itself into an international I&T hub under the National 14th Five-Year Plan, Mr Sit encouraged Korean tech companies to partner with Hong Kong to leverage the unprecedented opportunities.
Citing Hong Kong as one of the most dynamic start-up ecosystems in Asia, Mr Sit said that in six years' time the number of start-ups in Hong Kong had tripled to around 3 400 in 2020 with 11 unicorns and a quarter of the start-up founders in Hong Kong having their country of origin outside Hong Kong. "This international profile tells that Hong Kong not only provides prospects but also welcomes tech start-ups irrespective of their country of origin to develop and flourish in Hong Kong," he pointed out.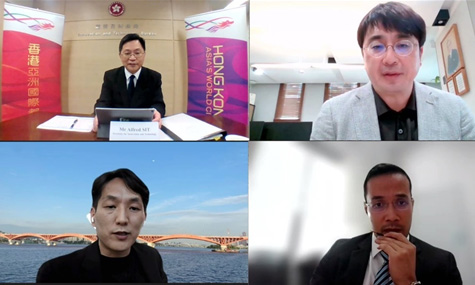 Speakers at the webinar included Mr Alfred Sit, Secretary for Innovation and Technology, (top left); Mr Lee Su-jae, Director for the Big Data Division of Seoul Metropolitan Government (bottom left); and Mr Cha In-hyok, CEO of CJ OliveNetworks (top right). The moderator was Mr Alfredo Montufar-Helu, Beijing Director of The Economist Corporate Network (bottom right).
Please click video of the speech of Mr Alfred Sit, Secretary for Innovation and Technology.